Polyend Dreadbox Medusa Sound Pack "Perseus"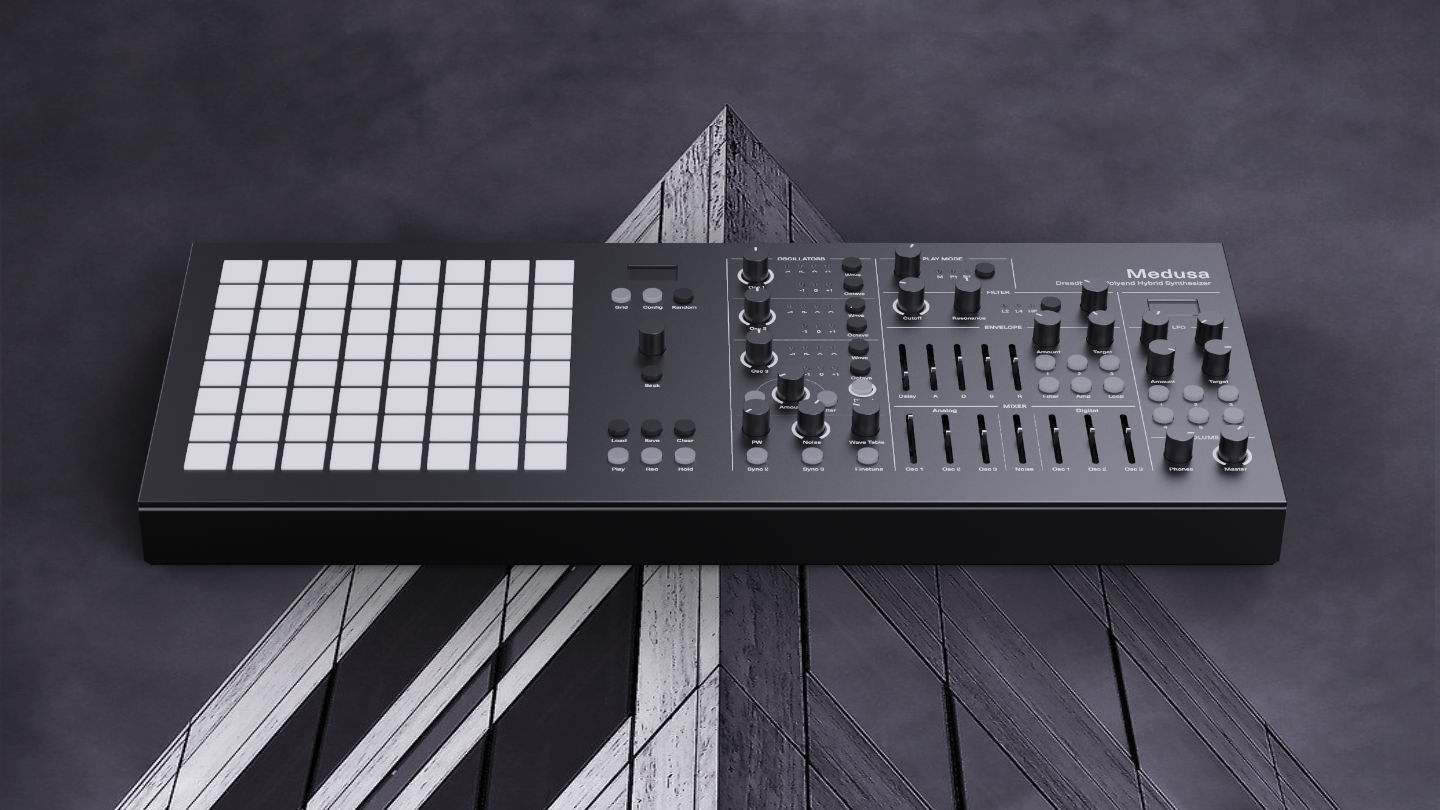 Our "Perseus" Sound Pack for Dreadbox Polyend Medusa includes 64 Patches for Techno, Ambient and Electronica. Expect fat basses, complex leads and lush pads. Pitch modulated strings and textures offer a VHS alike retro feeling. Every single patch has been created from scratch.
Medusa is the brainchild of a collaboration between Polyend and dreadbox. Before releasing this hybrid synth, both companies had already been famous for fantastic synthesisers, excellent sequencers and out-of-the-box concepts. So it's no surprise that Medusa unites a powerful sound engine with an intuitive but versatile sequencer even allowing for parameter locks.
Our Perseus Sound Pack reflects this flexibility and so the 64 patches cover a wide range from fat bass sounds and complex leads to techno chord stabs. Of course, a vast synthesiser like Medusa is also capable of reproducing experimental sounds so deep drones can be equally found like warm pads. Keeping the musician in mind, every patch has been created to still fit into a musical context easily and is not just a feature-show-off that leaves no space for other tracks.
42 Sequences included
For instant inspiration 42 of the patches feature their own sequences. For live performers lots of them also make heavy use of the grid. Speaking of performing: Medusa is also a great MPE controller. Therefore, in every patch we've assigned parameters to mod wheel and aftertouch so you can play the sounds expressively live or in the studio.
If you enjoy music by artists like Boards of Canada, Tycho or Aphex Twin you'll appreciate the retro vibe of many patches that recreate the characteristic sound of a worn out tape. Those who are more into Detroit-Techno can expect metallic dub techno chords that bring back those memories of (semi-legal) warehouse parties.
Perseus Sound Pack includes 64 Dreadbox Polyend Medusa Patches
Bass: 15
Leads: 19
Pads / Drones: 16
Bell: 3
Experimental: 5
Chords: 6
Sequences: 42
Easy installation
In order to install Perseus Sound Pack for Medusa you can use Polyend's easy to use "Polyend Tool" software. It's free and can be downloaded here.
License
Single User, royalty-free for commercial or home use.
This Sound Set is a digital item.
The download link of the Sound pack will be provided via email upon purchase.
Other Sound Packs