ASM Hydrasynth Patches for Ambient and Techno: "Flora" Sound Pack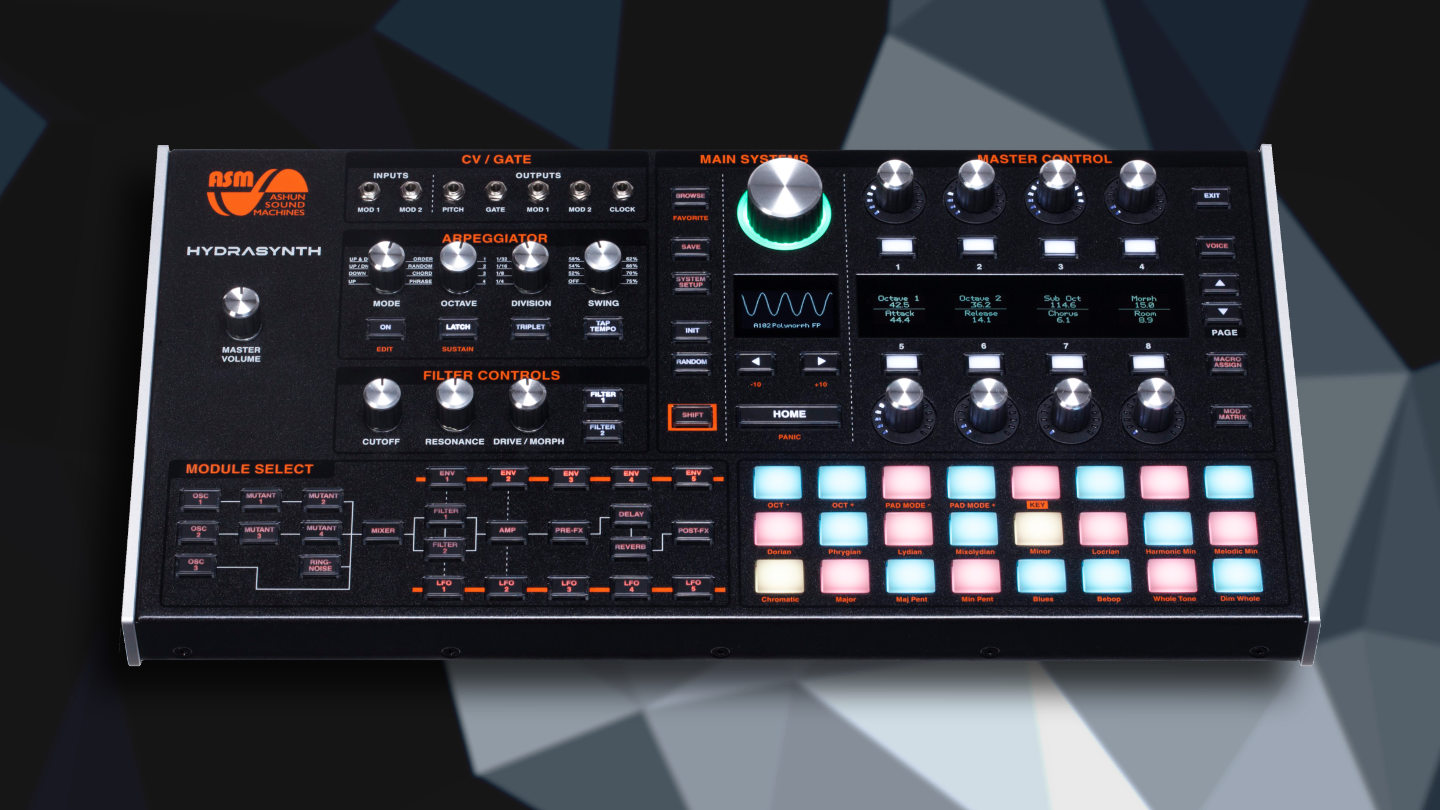 With the Hydrasynth series, Ashun Sound Machines offer great synthesizers. Almost endless modulation routing possibilities, combined with vast wavetable synthesis and a flexible filter section served as a great starting point for the ASM Hydrasynth "Flora" sound pack. The 70 Hydrasynth patches included are perfect for Ambient, Electronica, Techno, and other electronic music styles. Of course, every preset has been programmed from scratch.
Although Flora has a strong focus on cinematic atmospheres and deep pads, you'll also find lots of powerful bass sounds and complex leads. If you're into dub techno or ambient, choose from several typical dub chords and stabs.
Over 3300 modulation routings and extensive controller assignments
Every one of the 70 Hydrasynth patches makes heavy use of the modulation matrix resulting in a total of over 3300 modulation routings. In combination with the macro controllers, you get immediate access to several parameters at once. Therefore, you can easily reshape the character of a tone completely in no time, e.g. morph a lead sound into a pad.
Plus, instead of simply copying parameter layouts, every assignment has been chosen for each patch individually. This way the results are always useful in a musical context. At the same time, there is a given consistency in the macro layout. For example, delay and reverb are linked to macros 7 and 8.
Furthermore, every patch features parameter assignments to the most important live performance controllers such as modulation wheel, velocity, and aftertouch.
"Flora" includes 70 ASM Hydrasynth Patches
13 Pads & Textures
10 Rhythmic Pads
12 Leads
10 Basses
10 Arpeggios
3 SFX
12 Dub Chords & Stabs
▶ Over 3300 modulation routings in total!
▶ Compatible with Hydrasynth Keyboard, Hydrasynth Desktop, Hydrasynth Deluxe, and Explorer!
ASM Hydrasynth Presets – Easy Installation
After connecting your Hydraynth with a computer, please open the free Hydrasynth Patch Manager.
In the App, select the computer icon in one of the two main windows. Next, select the synth icon in the opposite main window.
In the main menu bar, navigate to "Import Bank"
Within the pop-up window, navigate to the location where you have stored the downloaded (und unzipped) sound bank "ASM_Hydrasynth_Flora_Limbic_Bits.hydra" and select it.
Now you should see the patches in the computer window.
In the synth window, select the bank you want the patches to be transferred.
PLEASE NOTE THAT YOU WILL OVERWRITE ALL EXISTING PATCHES IN YOUR SELECTED BANK BY EXECUTING THE NEXT STEP!
Now, simply drag and drop the patches to your hydrasynth and wait until the pop up message "Transferring…" has disappeared.
Done! The patches should appear in the bank of your choice now.
Trouble Shooting
In case something went wrong or if you're facing issues during the patch transfer, please use a direct USB connection instead of a USB HUB, or try a different USB cable. Also, please make sure to always use the most recent Hydrasynth firmware and librarian software.
License
Single User, royalty-free for commercial or home use
This Sound Set is a digital item
The download link will be provided via email upon purchase.
If you like these ASM Hydrasynth patches, check out: